2022 MUNICIPAL ELECTIONS ARE SCHEDUELD TO TAKE PLACE OCTOBER 26, 2022
If you're considering running for office, more information can be found online using the links below, by attending the Candidate Information Workshop scheduled to take place at the Town of Neepawa office on Tuesday, June 28th or by calling our office at 204-476-5414.
The Provincial Website has included a list of frequently asked questions and the Association of Manitoba Municipalities (AMM) Website provides a number of valuable resources. Just click on either of these links or scroll down the page to see more!
Province of Manitoba | mr – election_faq (gov.mb.ca)
AMM – Association of Manitoba Municipalities | 2022 Municipal Elections Resource Hub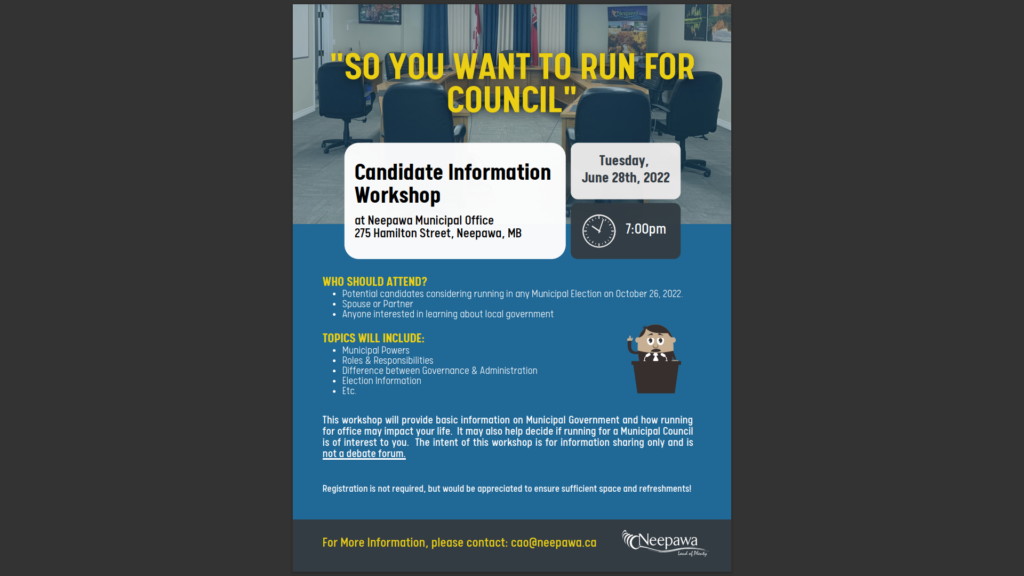 In addition, there are a number of testimonial videos provided
AMM – Association of Manitoba Municipalities | Toward Parity in Municipal Politics
Manitoba Municipal Relations – YouTube
How to be an Effective Municipal Elected Official – YouTube
Importance of Gender Parity on Council – YouTube
Councillors: Whats their role? (English) – YouTube
What is the Association of Manitoba Municipalities (AMM) – YouTube