Big Valley
North of Neepawa and West of Birnie, Big Valley should be considered an important heritage site. The Valley is an example of glacial meltwater spillway of the last ice age.
This is a valley made of shale with a spring fed creek running through it. For many years the valley has been a popular recreational area. Many people have enjoyed the beauty of the birch trees, the winding creek, the shale slides and the snake den. The hill has been popular for tobogganing. There is a small campground and picnic area.
Should not attempt to drive into the valley in the snow or wet conditions.
Kerrs Lake
In the North West corner of the municipality there is a small campground and picnic area. The picturesque lake features boating and fishing.  Camping in the park area is to be restricted to a maximum of 7 days.
Eden Rink
In winter skating and hockey are enjoyed.
Rosedale Farm Trail
The Trail is located 5 miles west of Eden on the Rosedale Farm and is all-season.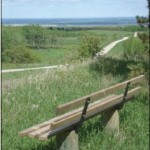 This ¾ section piece of land was rehabilitated during the 1960's as a demonstration project for soil conservation in farming practices. In 1977, the WWCD Board assumed responsibility for the farm.
In 2010, a group of local citizens established an all-season foot trail through the farm property. The trail passes through a variety of vegetation and topography and offers stunning views to the east of the Riding Mountain Escarpment. Interpretive signage helps to explain the history and features of the farm. Last year, more than 200 hikers enjoyed the Rosedale Farm Trail.
Rossburn Subdivision Trail
This trail goes through the municipality and people can hike or bike it in summer and snowmobile in the winter. The trail runs 172 km/107 miles long, from Russell to Neepawa and follows the abandoned Rossburn Subdivision railway bed.  Rossburn Trail map
Kelwood hosts an agriculture fair in August.